At the 2014 ACM International Joint Conference on Pervasive and Ubiquitous Computing (UbiComp 2014) we had the 5th international workshop on Personal Informatics.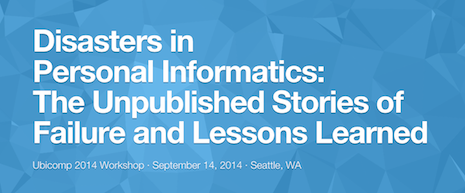 This year the workshop was framed as the "Disasters in Personal Informatics: The Unpublished Stories of Failure and Lessons Learned". The idea was to stimulate a discussion on the challenges involved in conducting research in personal informatics. Nine interesting papers were discussed in three themes as part of the workshop program: Personal Informatics in Life, Data Collection and Quality, and Engagement in Longitudinal Studies.
My PhD student Andrea Cuttone and I presented our work: "The Long Tail Issue in Large Scale Deployment of Personal Informatics" discussing issues in carrying out Personal Informatics research as part of our large-scale SensibleDTU study.